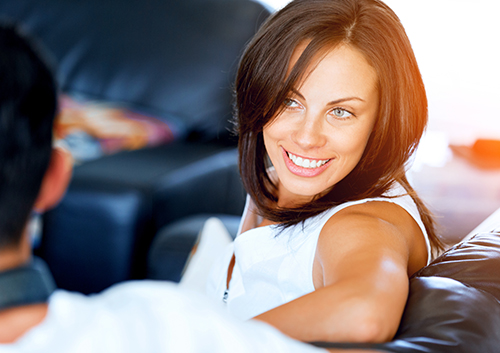 Most of us know that unpleasant feeling. You're happily enjoying an icy milkshake with lunch or having a piping hot cappuccino break, and suddenly an innocent binge turns to cringe—your tooth sensitivity has crossed another item off the menu. If heat, cold, even the act of brushing cause you tooth discomfort, we have solutions for you. Let's look at some of the common reasons for tooth sensitivity and how to prevent it.
There can be too much of a good thing! Aggressive brushing, especially with firm toothbrushes, can damage enamel. When the dentin underneath is exposed, heat and cold can reach the sensitive inner tooth and trigger discomfort.
Go easy on yourself: Switch to a soft bristled or electric toothbrush and brush thoroughly but gently. It's often suggested that we massage rather than scrub. We can also recommend toothpastes that can help reduce sensitivity.
As gum disease progresses, the gums start to pull away from the teeth and expose their roots. Even though the roots are protected by cementum, a covering a lot like enamel, they are more sensitive to heat and cold. And if you are an aggressive brusher, the cementum is more easily damaged than enamel, leaving the sensitive roots even less protected.
Prevention is the answer: Brushing and flossing help prevent gum disease, as do your regular exams and cleanings. If you are suffering from more advanced gum disease (periodontitis), Dr. Julia Villa can suggest advanced treatment to protect your roots, such as deep cleanings and gum grafts. Don't let periodontitis go untreated, as it can lead to infection and even tooth loss.
If your enamel is already compromised, sugary foods and acidic foods can cause tooth discomfort.
Be patient: Until your sensitivity problem is under control, avoiding these types of foods will help. On the other hand, sugary and acidic foods aren't the ideal dental diet, so cutting back is not a bad idea.
Mouthwash, whitening toothpastes and home whitening products contain substances such as alcohol or bleaching agents that can cause sensitivity in some users.
Make some changes to your shopping list: Choose products without alcohol or whiteners. Talk to us about gentler alternatives for mouthwashes and whitening.
If you have a cavity, a broken filling, a cracked tooth, or some other injury to the tooth, sensitivity can be a warning sign.
Take care of yourself: Call our American Canyon, CA office immediately if you have prolonged sensitivity or any other painful symptom. Repairing and restoring your damaged tooth should eliminate this discomfort. And, while it is often common to experience some degree of sensitivity after dental work, if this doesn't clear up within a short time, let us know.
Because grinding also wears away enamel, tooth grinders often suffer from sensitive teeth.
Protect yourself: We can fit you for a custom nightguard that will eliminate the nightly stress on your enamel. It can also help the tooth and jaw pain caused by grinding.
Talk to us about any sensitivity you have been experiencing, especially if it has been going on for a while or is causing you real discomfort. We will explore the possible reasons for your tooth sensitivity and help you find solutions. After all, you should feel free to enjoy any item on the menu, in the very best of dental health.